Edit Name
Art Torres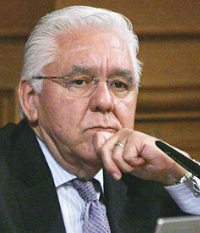 Edit Main Content
Art Torres was appointed to the Covered California Board of Directors by the State of California's Senate Rules Committee on July 8, 2015.
Torres is vice chair of the Governing Board of the California Institute for Regenerative Medicine (CIRM). As vice chair of CIRM, he helps oversee the allocation of $3 billionin stem cell research to California universities and research institutions. He served in the California State Senate from 1982 to 1994 and in the California State Assemblyfrom 1974 to 1982. Torres has written bipartisan initiatives in the fields of health care, education, the environment and human rights. He chaired the Senate InsuranceCommittee and the Senate Toxics Committee where he wrote the Clean Water Drinking Act, passed by the voters as Proposition 65. He also served as the chair of the AssemblyHealth Committee where he overhauled the Medi-Cal system
He helped write Pope John Paul II's environmental message in 1990 at the Vatican and legislatively created the only national Japanese American Museum in Los Angeles' Little Tokyo community. He traveled to Hanoi to help release more than 100 political prisoners detained in "education camps" and later led the first Vietnamese-American delegationof Vietnamese U.S. citizens to Hanoi and Ho Chi Minh City.
He was a German Marshall Fund Fellow specializing in Western European immigration policies and delivered a paper after meeting with Western European ministers in Sweden,France and Germany. He also served as president of the Kaitz Foundation for the cable television industry to help bring people of color into the cable television industry.
He was the U.S. Senate appointment to the Commission for the Study of International Migration and Cooperative Economic Development whose study was submitted to then President George Bush in 1990, as a blueprint for immigration reform but never implemented.
Prior to being elected to the California Legislature, Torres served as the national legislative director for the United Farm Workers Union, working closely with Cesar Chavezand Dolores Huerta. He helped write the union's first constitution. He is the former president of the San Francisco Public Utilities Commission.
In 2013, he was awarded the Silver Spur Award for his public service to the Bay Area by SPUR, an organization founded in 1906 to help the victims of the 1906 earthquake andnow the major planning and civic organization in the Bay Area.
Torres holds a B.A. degree from UCSC's Stevenson College and a J.D. from UC Davis School of Law. He also served as a teaching fellow at Harvard's John F. Kennedy School of Government.